Air Travel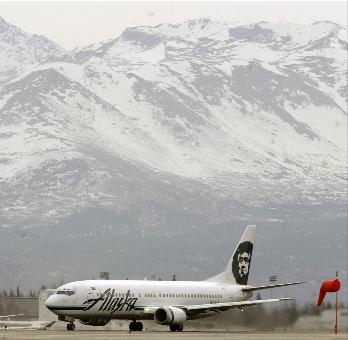 Air Travel Tips
I thought I'd share some of my Air Travel Tips since flying anywhere out of Alaska is a major deal!  Nothing is simple and rarely is there a one stop and you're there itinerary.
I have to admit that I hate Air Travel and in all the years flying only 2 weird things have happened to me.   One was that the airline door didn't get shut completely and we had to fly low for pressure reasons.  Then upon landing the door would not open and we had to exit out the evacuation slide.   But flight is required if I want to travel, so I will share with you what works for me.
PETS:  Before I list my tips, I would like to share that if you have Air Travel with a pet in cargo, Alaska Airlines is the only airlines I have found that has a pressurized cargo pet area allowing for more normal breathing for your pets.   Most airlines do NOT have a pressurized pet cargo area and cannot guarantee that THEY will be able to put your pet in cargo unless the outside temperature is above 45 degrees.   Now how often does that happen when you fly in/out of Alaska and make a stop in Minneapolis or Denver or Salt Lake City for a connecting flight?   Just a FYI since I had to learn the hard way!  Now here are my Air Travel Tips:
Getting Tickets:   I can get the best deals comparison shopping online and booking online.   Try to get NON STOP flights if possible.   Living in Alaska it is a must to have an Alaska Airlines VISA card  because money spent means accruing miles for a ticket soon FREE!    Maybe you have other Credit Cards that accrue miles for travel easily.  Use them 🙂
Get your seats during booking process especially if you are sitting with others.
Luggage:  Check with your airline to see how many bags are allowed.  Each airline is different and 1st class allows more FREE.
Alaska Airlines allows 50# per bag.  The 1st bag is FREE.  The ticket agents are very picky and 5# over you will be charged a fee of $25.
I tie colored ribbon balls on my luggage, something that really stands out.  Hot Pink, Purple or Orange/Yellow.   I can recognize them from a conveyor belt very easily.
My Toiletry items go in luggage.   If your luggage is lost, hotels have toothbrushes, toothpaste and deodorant free and I don't have to take plastic bags out while I go through TSA to search.
Money:   I try to have most of my events and hotels prepaid so all I need to pay for are meals and extras.   I take cash and one credit card.   Depending on where I am I will keep the money in my purse or in a money belt under my shirt.
Documents:  If you travel out of the US you will need to get a Passport.  I make copies for keeping in hotel safes and with a friend or family member in case something should happen and I lose my Passport.   I also use the hotel safe for my laptop.
Mediations:  I carry on all my medications I may need.  I never pack them in a suitcase that will be sent in baggage.
Carry On Bag:  I put my medications and a change of clothing along with a toothbrush in my carry on bag.  I have had luggage not make it often enough that I prefer to have my own toothbrush with me but most hotels will have deodorant and toothpaste.   This is a good place for your laptop, iPad or other electronic devises.
You can bring food through the security line, but not liquids.  So plan to buy your drinks after you have passed through the security line inside the airport.
Security Line at Airport:   I try to wear the easiest shoes to get on/off.   Don't wear shirts with lots of beadwork or you will get patted down.   Don't wear skirts because you will get patted down.
Air Travel On the Plane:   I wipe down my sitting area with sanitizing wipes which includes my tray table, the arm rests, the window and the shade lip.  AND since my Naturopath recommended this,  I bring Q-tips & I have been wiping the air vent out with tea tee oil, also known as Melaleuca Essential Oil.  OH MY you can't believe how black the air vents are.  And I breathe that!    They say you don't get sick from breathing the airplane air but after I've started cleaning around me and in the air vents…I feel much better.  You know when the plane is serviced between flights they do NOT clean the drop down tables or your arm rests.   Tea Tree Oil will kill bacteria and viruses that are blown through the air vent that I have just cleaned.  I'd much rather breath that!
Now Sit Back and Relax, you are ready for Air Travel.