Taking Road Trips when Traveling with Kids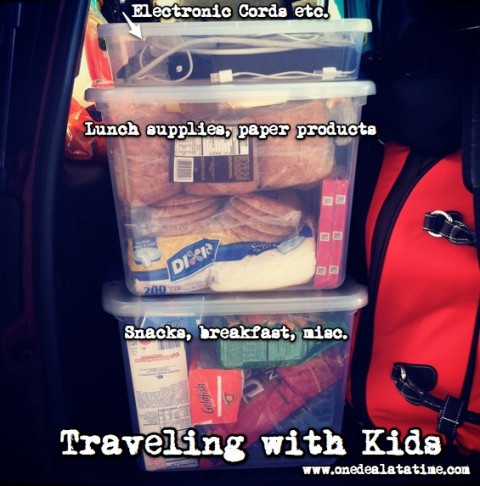 Traveling with kids on a road trip is like a box of chocolates, you never know what you are going to get…
My parents always traveled with us 6 kids growing up. We never flew anywhere. Paul and I do the same with our kids, we drive any place that we have to go. For a few reasons…
9 plane tickets are expensive
When we get there, no one has a vehicle that we can rent that will fit all of us. We have to rent 2 and that stinks.
They get to see the country
We get to spend more time together
Yes there are many drawbacks, but that is another post! There are a few things that I do to get ready each time. Make sure that the oil is changed, the car is vacuumed out, and the laundry is done.
Each child is allowed a back pack and a duffle bag or their rolling suitcase. The back pack goes on their lap or under their feet in the front of the car, this is what you can find in them:
Books
iPod and ear phones
1 change of clothes and P.J.'s
Personal things they want to have with them while driving
Blankies
They are not allowed to drag a bunch of stuff into the car, all they can have is what they can fit in the backpack. This is also what they will bring into the hotel/motel when we stop. We don't want to unpack the entire car each time we stop, so this is their overnight bag also.
Traveling with kids can be a lot of fun, you can even make it easier on yourself by having things for the kids to do in the car, and keeping the car uncluttered and organized.
Check out our other tips for Traveling with kids