PINSTRIPES is a unique dining and entertainment venue. Their distinctive dining and entertainment venues feature a bistro with exceptional Italian/American cuisine and wine; bowling and bocce; a year-round outdoor patio and fire pit; and event space/party rooms accommodating 20-600 people (weddings, birthday parties, corporate events, anniversaries and more!). Enjoy lunch or dinner, private parties, weekend live blues and jazz, wine dinners, mom & tot play dates, clubs and leagues and other exciting promotions.
My husband and I had dinner at the Edina, MN location (that we received for review).  This is the coolest idea!   You can get a great meal and bowl in their posh bowling alley. They have comfortable leather couches with tables to enjoy the food while bowling. They also have a bocce ball area!
When we walked into Pinstripes we were greeted by Brent. He was very friendly and helpful.  I was really excited that they offered a gluten free menu! I really miss pizza and pasta.
Our waiter, James, was very friendly as well. He even helped my husband pick out a beer to compliment his dinner choice.  They serve local beers and have a huge selection of wine. All of their food is made fresh at the restaurant.  They started us off with bread and dipping sauce. They had delicious gluten free flat bread.  The sauce was amazing and I kept it to dip my pizza crust in 🙂
The food was fantastic! I got the gluten free Grilled Vegetable Pizza. It was loaded with fresh veggies.  My husband got the Seafood Linguini that was loaded with crab, mussels, and grilled shrimp.  Everything tasted so fresh.
Dessert was also amazing. I had the gluten free chocolate cake. The cake had a fudgey consistency and the homemade whipped topping tasted great with it.  My husband got the creme brulee. I am not usually a fan of creme brulee, but the custard was delicious! When we thanked the chef, Nelson, he was very modest and gracious. He took pride in the quality of his dishes.
The whole restaurant setting is open and posh, very inviting. It's a great place to go on a casual date or a night out on the town. They have a whole second floor dedicated to private parties such as baby showers, wedding receptions, birthday parties, business parties, and more!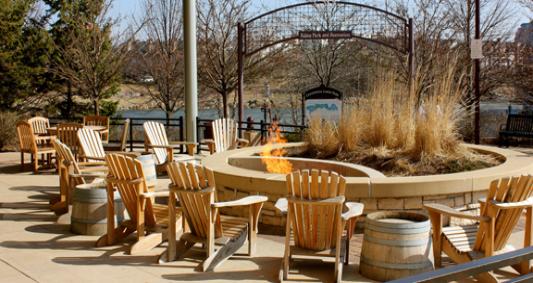 You can also eat outside around the firepit! I just love the atmosphere. We will definitely be back to Pinstripes!