Vote for Impact Travel as Family Travel
There is a new wave of travel rolling across the globe. Impact travel is quickly becoming a popular way to travel for individual travelers, couples, and family travel.  Fathom Cruises will be hosting me this summer on their new ship the Adonia. We will be cruising to the Dominican Republic for what is should to be a memorable and gratifying adventure for myself and my son.What is impact travel? I am sharing my thoughts on impact travel and why I vote for impact travel for family travel as part of the annual Word Traveling month long travel series. There are 30 other amazing posts in this annual travel series.  
We are also giving away an incredible vacation to the beaches of Fort Myers and Sanibel
, so scroll down to the bottom of this post for all the details to enter. Then,
head on over to Word Traveling
 to enter the giveaway and
 read my full post "Vote for Impact Travel" which is part of the 2016 Word Traveling 31 Day Series themed "Vote for ______ Travel." I hope you will vote for impact travel too! 
Make sure you click over to Wordtraveling.com and Cast your "Vote for Travel' by entering the awesome $1500 vacation giveaway to the incredible Beaches of Ft. Myers/ Sanibel and to read more posts from other bloggers and family travel experts in our third annual series!
No purchase or real voting necessary!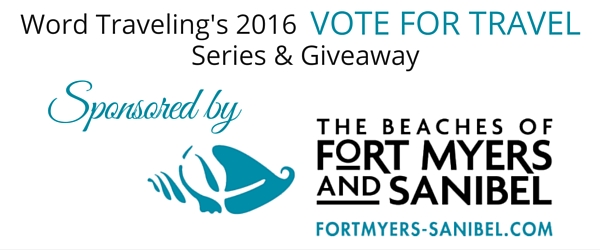 *Terms and prize details can be found at WordTraveling
Click the image below to read the rest of my post and ENTER TO WIN: